Boracay Island in the Philippines has a lot of wonderful places to offer aside from the powdery white beaches. They have Mount Luho which gives you the panoramic view of the island and they also have the Butterfly Farm which is situated along the main road of Boracay inside the Fairways & Bluewater Resort in the Philippines.
Butterfly Farm is a 2,200 sq. ft. greenhouse garden with a butterfly breading program. It holds a Wildlife and Collectors Permit to breed butterflies. The breeding program helps to conserve the existing populations through producing healthy farm-raised butterflies which will help in sustaining future butterfly generations.
There are over 20 exotic species of buttery inside the Butterfly Farm. Along with that are 150 different varieties of plants which will definitely help in the breeding program. Some of the different varieties of butterflies commonly found inside the farm are the Plain Tiger, the Scarlet Mormon, Stripped Blue Crow and a whole lot more. Butterflies are the main attraction inside the farm but inside it you can also see bats. Yes, you heard me right. There are bats inside the Butterfly Farm. It's scary but we took some courage to hold the bat. Good thing it did not scratch us or harm us.
There are educational tours available to take you through the lavish gardens and explaining every bit about the life cycle of a butterfly. Lisa and I enjoyed observing the larvae and caterpillars that will soon become a butterfly after a couple of days. It's definitely an escape into the world dedicated for butterflies. You would surely realize that butterflies play a vital role in balancing our eco systems. And with butterflies around, it's like watching beautiful patchwork of rainbow like colors because of the presence of their uniquely colored wings.
The Butterfly Farm started as a hobby of a New Zealander Patrick Manion a retired chemist, and his Filipina wife Adela Jaudian. This later became one of Boracay's tourist attractions. The farm is filled with butterfly facts, trivia and educational material such as the frames with preserved butterflies and a poster of the life cycle of a butterfly. The Butterfly Farm hopes to inspire the next generation of nature lovers and young scientist.
Butterfly Farm has an entrance fee of P75.00 per person and its open daily from 8:00 AM to 5:00 PM. Entrance fee is free for WOW Philippines Travel Agency Customers. Going to the farm is easy since it's along the main road, you can ask a tricycle driver to drop you off at the Butterfly Farm in Fairways & Bluewater Resort or if you're up for an adventure you can hire a buggy car since one of their stop is the Butterfly Farm.
The Butterfly Farm offers butterflies to be released for weddings and other functions giving an almost magical and romantic touch to whatever the occasion.
There is always something to discover at Boracay Island in the Philippines. Come and explore the tremendous world of butterflies up close and in living colors. Don't forget to bring your camera so you won't miss any clicks.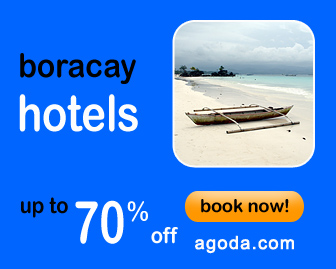 This page is last updated on
About the author