The Cebu Taoist Temple or The Philippine Taoist Temple Inc. is situated inside Beverly Hills Subdivision, Cebu in the Philippines. The building of Cebu Taoist Temple commenced in 1972 by a group of Chinese. The main temple is elevated over 270 meters above the sea level and the highest area is about 300 meters above sea level. It has a nearby temple named Phu Sian built by another Chinese Community but is not open to the public.
Cebu Taoist Temple is open to both worshippers and non-worshippers from 8am-5pm. The devotees usually pray to the Gods to grant their wishes and ask for answers to both minor and major decisions in life. Visitors can ask for wishes and answers if the Head or the Temple Attendant is there.
Taoism Procedures to Communicate with God
Taoism procedures is by using a pair of kidney-shaped wooded blocks as medium to communicate with God for their questions, problems or wish.
Wash both hands to represent Cleanliness.
Light the Joss Stick, kneel down by holding the Joss Stick with both hands and pray for guidance to enlighten your problem or wish.
Hold a pair of blessed wooden blocks, flat-side up with both hands.
Ask your question, wish or problem in a simple manner and you should only ask one question at a time.
Drop the wooden blocks gently to the floor and your answer will be according to its positions:
YES – 1 Wooden Block is "Flat" and 1 Wooden Block is "Half Round"
NO – 2 Wooden Blocks are "Half Round"
MAYBE – 2 Wooden Blocks are "Flat"
Remember:
Before asking your questions, problem or wish, you have to ask permission whether God is ready to accept enlightening your question in mind. (follow procedure number 5)
If the answer is YES, then start asking a question, problem or wish.
If the answer is NO, then you have to come back some other day and ask again or consult the Temple Attendant for assistance.
If the answer is MAYBE, then your question, problem or wish is not very clear. Simplify your question and ask again or consult the Temple Attendant.
After all your question, problem or wish have been answered, please kneel down and express your thanks to God and ask for his blessings and graces in life.
The temple is the place of worship for Taoism. This is where the teachings of Lao Tze, the ancient Chinese philosopher were followed. The devotees climb the 81 steps that represent the 81 chapters of Taoism scriptures during Wednesdays and Sundays. This is usually done by lighting Joss sticks and devotees ask for fortune reading from the monks.
Cebu Taoist Temple is one of the main attractions of Cebu. Other attractions are Museo Sugbo: The Cebu Provincial Museum, Crocolandia, Q Park, The Family Park and many more. The temple is a common part of field trips among students.
Local and foreigners usually visit the temple in the afternoon time. If you're planning to visit Cebu Taoist Temple just be sure you're there before 5pm. The guards and the temple attendants are very strict of the time. There is not much to do in the temple. One can enjoy strolling around the temple in less than an hour. Watching the view, taking some pictures of the awesome place and relaxing are the most common things done inside the temple. Note also that picture taking of the Gods and inside the prayer rooms are strictly prohibited. They will confiscate your camera if you do this or exaggeratedly, you can be shot dead by the guard (nah, just a joke). Just respect their temple as they also respect you and you don't pay any entrance fee. You are entering a Taoist Sanctuary of Prayers and Meditation so please observe silence, solemnity and follow the rules while you are inside Cebu Taoist Temple. Meditate and pray while you go up to the main altar. You are only allowed 30 minutes to 1 hour to walk around the temple. A good view of Cebu, Mactan and Bohol is waiting at the top area of the temple.
Cebu Taoist Temple has a spacious parking area. I suggest you bring your own vehicle if you're visiting the place. It is about 10 minutes away from the main road of Barangay Lahug. If you ride a taxi going inside, just be sure to prepare your feet to walk 2 kilometers just to find a taxi or "habal-habal" (motorcycle for hire) if you're not lucky enough to find an empty taxi inside Beverly Hills Subdivision.
Inside Cebu Taoist Temple one can see the stairs followed from the concept of the Great Wall of China, the wishing well, a souvenir shop, the big dragon replica, the old bell, a fish pond, beautiful flowers and a Chinese fisherman among many others.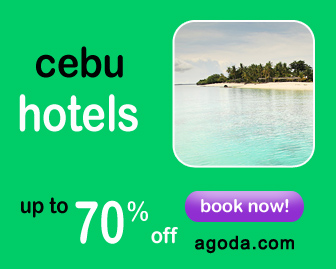 This page is last updated on
About the author