History of Islands Souvenirs
The idea of Islands Souvenirs took form in the early 1990's. The germ of a concept was inspired by the founder and chief executive Jay Aldeguer's travels in Europe and around the Philippine Archipelago. He saw the need for light and practical souvenirs and "pasalubong" items.
In every place he visited, he recalls buying all sorts of mementos from miniature figurnes to books. But as his bag filling up he decided to purchase souvenir T-shirts instead. They were lighter and more practical, he explains.
That trip inspired him to start a souvenir business in the Philippines, particularly when he realized that tourists here did not have much choices. At that time, the design and quality of these shirts were substandard, even in the best cities abroad. As world tourism was on an upsurge, Aldeguer decided to introduce the premium quality souvenirs which notches higher in terms of creativity, innovation and quality.
Using some of his earnings from his T-shirt business in college and some help from his parents, he started Islands Souvenirs in 1992 at the age of 21 with an initial capitalization of P200,000.
With a P1,500 bamboo cart, Aldeguer began selling the shirts at the White Gold department store in Cebu. Less than six months later, Cebu's top department stores, the Gaisanos, offered him an 80-square meter space. By his second year, sales zoomed more than 300 percent. The timing was also perfect. The economy was on the upswing with tourism at the forefront, he says to his immediate success.
For the next years, Islands Souvenirs was growing a double digit pace. That is until the Asian financial crisis, which began in the late 90's. Tourist arrivals dipped tremendously, he says of that difficult period. But instead of pulling back, Aldeguer fast-tracked his international distribution and other tourism related businesses.
A novel idea for its time, Islands Souvenirs broke the traditional hold of small, cottage industry type retailers of poor quality souvenirs and craved out a new market niche for premium quality souvenirs creatively designed and showcased in vibrant shopping environments.
Thus, from a single store in the island of Cebu, Islands Souvenirs has grown to a network of over a hundred outlets across the Philippines as well as internationally.
Islands Souvenirs dynamic growth is marked by its having captured a significant share of the souvenirs market in its home country: making the company the leading and most awarded brand in the Philippines.
I Love Cebu Shirts
One of Islands Souvenirs' most recent product is the "I Love Cebu" T-shirts for both Males and Females. Lisa and I went to SM City Cebu recently. The advertisements' models were Cebu's Boxer Z "The Dream" Gorres, Tourism Secretary Ace Durano & Broadcaster Haide Acuna. We decided to buy the "I Love Cebu" for ourselves and we want to tell everyone that we are one of the many people who love this beautiful City.
The price for the Men's Shirt is P299 while the Women's Shirt is P229. Since this is a print-when-ordered shirt, you'll need to wait for a minimum of 30 minutes. But since this item is "selling like hotcakes" today its better you go back the next day to get your shirt or you can take a stroll in the mall for 5-8 hours waiting for your lovely "I Love Cebu" shirt.
Contact Information of Islands Souvenirs
Islands Souvenirs, Inc.
Aldeguer Group of Companies Compound
Nasipit, Talamban
Cebu City 6000
Philippines
Phone: (032) 236-4896
Fax: (032) 236-5062
Email: info@islandssouvenirs.com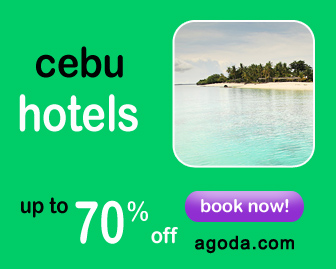 This page is last updated on
About the author