If you are planning to go to Boracay, make sure you include Jonah's Fruit Shake in your itinerary. It is dubbed as "The Best Fruitshake in the Island" and is one of the most visited snack house in Boracay. Both foreign and domestic tourists, patronize the place as it offers the best tasting fruit shake – Avocado, Banana, Mango, Strawberry, Melon, Papaya, Pineapple among many other fruits and combinations with chocolate and vanilla. Jonah's Fruit Shake is one of the many establishments that sells fruit shakes in the island of Boracay, Philippines but they can be distinguished from all the others because of its fresh tropical fruits and lovely location near the long beach front.
Although not a lot of people are amazed by its taste, for some, they still believed that fresh is best and this is what Jonah's Fruit Shake is all about. They offer a wide variety of fruit shake especially the ones that are in season. Apart from the fruit shakes, they also offer Pastas with price ranging from P125-P250 and Sandwiches (most of which have free French Fries) with price ranging from P90-P175. Fruit Shakes are priced at an average of P90 per serving. Jonah's Fruit Shake also serves Breakfast from P90-P200. There is more than enough crew in this small snack bar to serve you. They always see to it that you are delighted before and after your experience in their place.
My personal opinion is that their prices are not the biggest bang for the buck. It is just too high for a very small amount of serving. Aside from the price they showed on the menu, they also have an additional of 10% service charge which makes tipping undesirable by some.
Jonah's Fruit Shake is located northwest of Station 1, along the beach front. They can be contacted at telephone number (+63)(36)288-3281.
Update (August 28, 2012):
In a recent visit to Boracay, this time with our 1-year old son Stephen Alexis, we never forgot to visit Jonah's Fruit Shake. The taste of the island's tropical fruits blended with ice, milk and other ingredients is simply the best way to enjoy a refreshing drink in Boracay.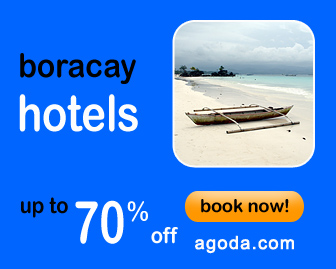 This page is last updated on
About the author