Considered to be one of the amazing places to spend the day with the whole family, the Manila Ocean Park enlivens thousands of visitors a day and allows them to experience the awe-inspiring marvels of the ocean by showcasing the wide variety of sea creatures, corals and a whole lot of ocean stuffs.
The Manila Ocean Park is an oceanarium in Manila, Philippines. It is owned by China Oceanis Philippines Inc., a supplementary of China Oceanis Inc. which is a Singaporean-registered company that has operated four oceanariums in China. It is situated behind the Quirino Grandstand nearby Kilometer Zero, across Rizal Monument in Luneta Park. It opened on March 1, 2008. In terms of floor space, the 8,000 square meters (86,000 sq ft) oceanarium is bigger than the Sentosa Underwater World oceanarium in Singapore, and features a 25-meter (82 ft) underwater acrylic tunnel.
Manila Ocean Park is open all year round, including all holidays from 8:00 am to 8:00pm in most of its sections (see other opening time below). But operating schedule is subject to change without prior notice, so be sure to call them prior to visiting the place if you want to be sure or or you may visit their website at http://www.manilaoceanpark.com/
Inside Manila Ocean Park, one can see the Philippines Crocodiles, which are slowly becoming extinct, are also preserved at Davao Crocodile Park in Davao and Crocolandia in Cebu.
A much smaller version of the Manila Ocean Park in terms of sea-life preservation can be found in Mactan, Cebu. It is known as Mactan Aquarium and the visitors can experience feeding the sharks.
Swimming and Fun
If you want to swim and have fun with the family, you can choose to visit "Swimming and Fun" Pool in Manila Ocean Park. Jump and float into the inviting waters of their swimming pool. Refresh and invigorate with fresh sea breeze from Manila Bay and swim with your entire family in the sparkling blue water from running jets in one of the bay area's largest swimming pool.
Manila Ocean Park Swimming Pool is open from 8:00 am to 5:00 pm only. During weekdays the entrance fee per person is P180.00 while on weekends it is P200.00.
Souvenir Shops
Manila Ocean Park has several souvenir shops spread throughout the building. One is located near the main entrance door and another one is located in the 2nd floor of the building. A wide variety of souvenir items are available – from shirts, mugs, necklaces, stuffed toys, puppets, shoes, sandals, slippers, bags and lot more.
Musical Fountain Show
It is a synchronized and alternated display of water, lights, fire and fireworks comparable to Sentosa's Songs of the Sea in Singapore. For more information, check my Musical Fountain Show blog.
Weather Policy
Manila Ocean Park reserves the right to make decisions to delay, postpone, shorten, or cancel a show. Tickets are non-refundable under any circumstances.
Show Policy
1. Show length is between 25 to 30 minutes for both Marine Life and Musical Fountain Show.
2. Seating is on a first come, first serve basis.
3. Ticket rates are both for adults and kids.
4. Expect to get wet during the Musical Fountain Show.
5. Guests are liable for the safekeeping of their valuables and personal belonging while inside the venue
Regular Rates
Swimming and Fun
P180.00 (Weekdays)
P200.00 (Weekends)
Pool Hours – 8:00am to 5:00pm
Musical Fountain Show
P250.00 (Weekdays)
P300.00 (Weekends)
Showtime – Wednesday to Sunday at 6:30pm
Marine Life Habitat
P150.00 per head (any day)
Showtime – 9:00am, 11:00am, 2:00pm, 4:30pm
Oceanarium
P400.00 per head (any day)
*Children 24 inches (2 feet) below are free of charge
Zoocology
Inside the Manila Ocean Park is a section that they call Zoocology. It's an animal bone and skin museum where one can experience to be an archaeologist for a day for only P99. Zoocology also features moving robotic animals which they call Zoobotics and they also have a short film-showing about animals and archaeology.
Snacks
There are plenty of snack booths and restaurants inside Manila Ocean Park. Hotdogs with soda/juice are the best-sellers. Purefoods Tender Juicy Hotdogs, Mc Donalds, Fruit Magic and Pizzaiolo are some of the stalls you will see inside.
Hotel H2O
Hotel H2O is a hotel located inside the compound of Manila Ocean Park. If you feel like taking a break from the bustling metropolis, Hotel H2O is the perfect place to be. It is a refreshingly unique refuge to calm your drained senses. Indulge in the hotel's stylishly designed rooms and aquarium-themed suites to take pleasure in a "fabulous, fluid, and forward-looking" hotel experience. Treat yourself to a day of pampering and invigoration in the hotel's Zenyu Eco Spa, or enjoy the best of Asia's flavors and Singapore's hawker style dining at Makan Makan Food Village.
Manila Ocean Park Oceanarium
The Oceanarium is one of the main attractions inside Manila Ocean Park. It is one of the many reasons why both locals and foreigners flock to Manila in the Philippines. On a normal day, without availing the package prices, the regular rate is P400. Children 2 feet to 4 ½ feet is P350, while children 2 feet and below is free of charge. Senior Citizens can enjoy a 20% discount if they have a valid ID and those who are a resident of Manila have a 10% discount if they can present a valid ID.
Oceanarium Rules
1. No Flash Photography
2. No Food and Drinks
3. No Running
4. No Smoking
5. No Pets
6. No Tapping of the Glass
What you will see
Inside the Oceanarium of Manila Ocean Park, you will see a wide array of sea creatures from stingrays, turtles, small and big fishes, crocodiles, clams, live shells and many other different kinds of species from all over the world.
One interesting location before reaching the main underwater acrylic tunnel is going through a place similar to the "Tree of Voices" in the movie Avatar by James Cameron. It is actually a mini-forest with thousands of hanging vine in it and many people usually get caught in the area just to take pictures.
Once you are inside the Bahura, a section of the Oceanarium, you will see hundreds of aquariums with different types of fishes with different colors and a wide variety of sizes and shapes. Your senses will surely be stimulated once you see these beautiful sea creatures that you've never seen before in your entire life.
Each aquarium has its own unique coral and stone designs which makes it very attractive for the onlookers and most probably the fishes themselves. For your knowledge, there are 27,000 sq. km. of coral reefs in the Philippines. It is a host to about 488 species of corals out of the 500 known coral species in the world, 971 species of benthic algae, and a third of the 2,300 known fish species. So let's love the sea and help in rescuing the reefs by not polluting the waters and never put garbage or human wastes into the sea.
The main part is the 25-meter underwater acrylic tunnel where most of the kids and adult stay to take a look at the stingrays, which are a large venomous ray with large barbed spines near the base of a thin whiplike tail capable of inflicting severe wounds – but at Manila Ocean Park, the stingrays are safe because the spines were removed. Together with these stingrays are other fishes that are 6 inches to over 3 feet tall.
One can also experience helmet diving (just like the helmet diving or marine walk in Boracay we experienced in February 2010) at a price of about P1,500 per dive. Someone will guide you when you submerge inside the aquarium so you can avoid getting the sea creatures angry and violent. The visitors will look at you like celebrities and take pictures of you like crazy once your inside the tunnel. The helmet dive is 100% safe because prior to diving you will need to master the underwater signals so that the guide will know if you're doing fine or not.
Kid's Learning Area
Inside the Oceanarium, one can also find the Kids Learning Area where children can read the different ways to help save the sea creatures. They can also join in activities such as developing arts and crafts through drawing and painting, storytelling, games, film-showing and puppet show.
Fish Spa and Manila Port
Once you're done stimulating your senses inside the Oceanarium, take time to take a deep breath at the exit area and watch the port of Manila and its large ships. Upstairs is the Fish Spa, a physically rejuvenating and relaxing way to enjoy a foot spa together with your family and friends. It is called as such because it literally uses Doctor Fishes (which are also known as Nibble Fishes) to take away your dead skin cells. For more information visit my Fish Spa blog.
Promotion Packages
Regular promotions are up for grabs at Manila Ocean Park. Discounted prices for different shows and attractions awaits both domestic and foreign tourists. Packages such as combining two shows/activities in one day can save you a lot of money. Be sure to check out Manila Ocean Park's website regularly.
Contact Information
For more information about Manila Ocean Park, you may call them at telephone numbers (+63)(2)567-7777 and (+63)(2)567-2309.
Please Comment
Before leaving this website, be sure to drop a comment below – be it a reaction, additional information, question, criticism to my blog post.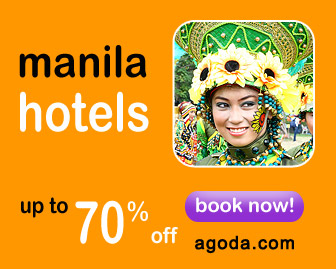 This page is last updated on
About the author