Marine Walk is one of the most enjoyable 30 minute activities in Boracay Island, Philippines. When we arrived at Boracay Island last February 2010, a lot of locals introduced the activity at a very high price ranging from P2000 to P2500 per person.
While walking along the long beach of the island we met Allan who gave us a very tempting discounted price of P900. At first I taught this was the best price I could get for the Marine Walk, so I exchanged contact numbers with Allan and reserved the 8am schedule the following day.
Me and Lisa went on with our stroll and continue to meet locals who offered the same activity at P1200-P1500 but no one is better than Allan's price. The following day, Allan was very excited to fetch us in our Hotel at 7am. He was telling us a lot of things about the Marine Walk. He said we can get free pictures and videos underwater and they will give us a DVD copy of it. He told us that this underwater activity is also called "Helmet Dive" or "Reef Walk" by other locals.
Upon arriving at "White Blue", I realized that Allan was only a middleman, which means he gets good money from selling the activity. If only we went directly to a "White Blue" representative we could have availed the activity for P600-P700 per person depending on the negotiations.
We were given a waiver informing us that the company is not liable for any damages and accidents that will happen to us. They also stressed not to destroy the corals.
We were fetched by a Speed Boat going to their "Float" in an area full of fish and corals. I tried driving the speed boat going back and forth. When we arrived we were told to put on our swimming outfit and use their free diving shoes.
After a preparation of about 10 minutes, everything was set. We had a short orientation regarding the signals underwater.
Here are the Basic Underwater Signals
1. Thumbs Down = Go Down
2. Thumbs Up = Go Up
3. OK Sign (Finger formation is like letter "d") = OK
4. All fingers pointing forward then wave hand = Problem
If pressure clogs the ear, simply close your nose using your thumb + pointing finger then blow your nose. You will notice that the air pressure went outside your ear.
After the orientation, it's time to immerse. I went to the water first and then the helmet was put over my head. The full weight was carried by my shoulder, leaving an air space inside it. This is like the concept of a glass turned upside-down and dipped into the water. The difference is that there's oxygen gradually filled inside the helmet. The 30kg helmet above sea level was about 2kg in water. Lisa was next and we're now both underwater. The guide / cameraman went underwater also to take us around the beautifully preserved corals and fishes. He gave us bread to feed the fishes. To our amazement, thousands of fish gathered to get some bread. This was a really great experience. It was my first time to be this intimate with fishes.
After a very fast 30 minutes of picture and video taking, we went up very satisfied of this one of a kind underwater experience at an affordable price. The next time we will be underwater will be in a scuba dive. I hope you enjoy my story and hopefully you can experience this too.
Update (February 29, 2012): During our last visit in Boracay early this month we found out that many are offering the Marine Walk for only P300 pesos. They manage to lower the prices because they are only using an air compressor (used in blowing tires and balls) instead of the pure oxygen tank; some also offer a combination of both oxygen tank and air compressor. If you think you can enjoy your 30 minutes using compressed air, then you can avail the activity at a much cheaper rate.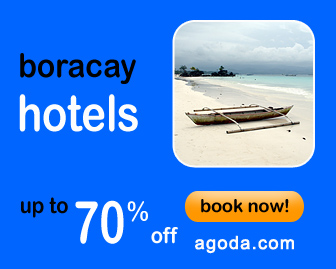 This page is last updated on
About the author