Boracay Island isn't just about beach fun and water sports. You can also enjoy adventure hiking or driving on a buggy car. Speaking of adventure hiking, a trip to Mount Luho at Boracay Island in the Philippines would be great.
Mount Luho is the highest point in Boracay and one of their tourist attractions that rises up to an altitude of 100 meters above sea level. It is a small mountain with a viewing deck. A bird's-eye view from the top of Mount Luho makes the demand in climbing worthy. On the viewing deck of the mountain you will see the terrific eyeshot of the ocean surrounding the island of Boracay especially the Bulabog Beach, Ilig-iligan Beach and Lapuz-lapuz Beach. You will surely be amaze of the beauty of Boracay.
Climbing Mount Luho does not require any mountain climbing gear as it's not really a high mountain. The people of Boracay were able to make cemented staircases going up to the view deck. It was 4:00 pm when Lisa and I went up to Mount Luho. We paid P50.00 each as the entrance fee. Aside from the panoramic view, we were able to see some animals like birds, the tazmanian devil related animal and the monkey who gamely graces with us for a picture. Isn't that cute? The staff said the monkey is actually pregnant that's why she was not importunate upon taking the picture. There's also a hammock were visitors can relax.
While in Mount Luho, Lisa and I savored every bit of the moment. The strong cold breeze as it touches our skin and the view was just so perfect for an afternoon leisure in Boracay. The astonishing view would surely take your breath away and ease you from any stress. Surely you will appreciate the entirety of Boracay Island.
Mount Luho is situated in Brgy. Balabag between Bulabog Beach and Lapuz-lapuz Beach and it is actually the other side of the white sand beaches where most of the tourists are. Mount Luho is accessible either going through Road 5 or through Boracay Bulabog Road coming from Bulabog in Brgy. Balabag. The latter would be the easiest way going to the mountain. There are a lot of ways to reach Mount Luho. You can go on adventure hiking with friends or ask a local tricycle driver to take you from D'mall to Mount Luho at a price of P250.00 to P300.00 or you can rent an All Terrain Vehicle (ATV) or buggy cars at a price range of P350.00 each person. You can also rent a mountain bike but you just need to be very careful while going through the treacherous road.
Spending the afternoon in Mount Luho with Lisa was worth it. If you have plans of going to Boracay, don't dare miss to visit Mount Luho or else you will miss seeing the awesome panoramic view of the whole Boracay Island.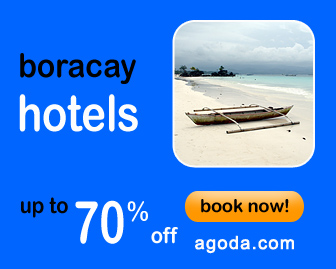 This page is last updated on
About the author