In Cebu, "tubod" is usually understood as a natural flow of ground water or a spring. It is one of the natural wonders in the Philippines where the Filipinos are proud of. A lot of people, plants and animals have been benefiting from this so called "tubod".
Because of the natural flow of this fresh water spring, swimming pools have been built in the entire country just to delight locals and foreigners of the icy-cool "tubod" which flows freely to the pool with very minimum processing to clean it entirely.
One very interesting swimming pool in Cebu is the Tubod Flowing Waters or simply known as Tubod by a lot of locals. It is a resort with a free-flowing swimming pool found in a secluded area in the mountainous area of Minglanilla, Cebu. Other "tubod" pools in the Philippines can be found in Cagayan de Oro, Siquijor, Camiguin and a lot more. One of the most famous areas with these kinds of pools is Iligan, which has Dela Mar Spring Pool, Timoga Spring Pool, El Lauriento Swimming Pool and Mimar's Springway Resort to name some of them.
Tubod Flowing Waters Resort in Cebu has one of the prime swimming pools found in the Philippines and it has been one of the most visited swimming pools by neighboring Asian tourist especially Koreans and Japanese who sometimes lease the entire resort for a month or two. These foreigners study the English Language here so they can absorb the lessons fast because of Tubod's relaxing ambiance.
Tubod Flowing Waters Resort is one of Cebu's finest. It has been blessed with multiple natural springs that had never been dried down even during the El Niño season. The people in the area have bathed themselves in the coolness of these tubod for generations.
Tubod also provide a hearty catered meal, a refreshing plunge and a relaxing room accommodation. They also housed some of the indigenous birds of Prey in the Philippines inside their bird sanctuary. One can experience the best Filipino service and hospitality they provide once you stay there. It's the perfect place for weddings, seminars, birthday parties and business meetings.
Tubod amenities includes 4 large swimming pools for both adults and children, several conference hall which can house up to 300 person, cottages, basketball court, fish for fun, outdoor billiards,  restaurant, cave with flowing spring, butterfly sanctuary, pool slides and a grilling area.
Tubod Flowing Water Rates
The entrance fee at Tubod is P100 per adults and P50 per children under 8 years old. A standard single room, good for two is priced at P1,200, while a standard family room, good for four, is P2,000. A deluxe single room with refrigerator and is good for two is P1,600 while a good for 3 is P2,100. A deluxe family room for 4 is P2,600, for 6 is P3,500 and for 8 is P4,000. The fee for an excess person in a room is P350. An air-conditioned dormitory type room which is good for 10 is priced at P3,500 while a non-air-conditioned is P2,500. The Tulip Function Room which can accommodate up to 300 persons is P4,000 while the Aster Function Room with a maximum capacity of 150 is at P2,500.
Services of the Resort
Tubod also provide food catering services for any occasion. They provide flower arrangement services, LCD projector and sound system rental and they provide airport and seaport transfers. At Tubod, customers can bring their own food without corkage fee and the resort provides grilling services.
How to get to Tubod and Contact Information
From the airport or seaport, you can take a Taxi or Car-for-hire going directly to Tubod. Just be sure to tell the driver to turn on the meter or negotiate the price first. It is about 1 hour and 30 minutes ride from Mactan Airport and 1 hour ride from Cebu seaport. Alternatively, you can also take a jeepney or bus going to Minglanilla or Naga (a town ahead) so you can save on fare. Going south, the corner going to Tubod is found at the right side. The signboard is visible enough for one to notice. Once there, you can ride a "habal-habal" (motorcycle for hire) or a tricycle. Tubod can be contacted at (+63) (32) 272-3467 or 272-8717. You can also email them at aike75@yahoo.com.
What are you waiting for? Get that swimming gear out of your storage and invite your families and friends to chill at Tubod Flowing Waters Resort. Tubod is definitely one of the best places to experience the perfect getaway.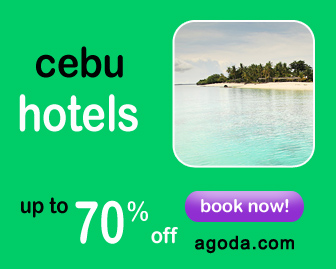 This page is last updated on
About the author