Want to go shopping but you're on a tight budget? No need to worry if you are in Metro Manila, Tutuban Mall is the answer. It is the shopping sanctuary at the heart of the Philippines' capital, Manila, where you can find all sorts of garments at cheap prices.
Tutuban Mall, also known as Tutuban Center, is situated at West Loop Road, C. M. Recto Ave., Manila, Metro Manila, Philippines. It was once the central station for the Philippine National Railways. But now it has been converted to a mall and shopping complex, blustering the cheapest array of wholesale and bargain goods found in the country. It may not be the classiest mall in Metro Manila but a lot of people come to visit the place for they can find the cheapest yet fashionable items such as clothes, shoes, novelty items and a whole lot more.
Some considered Tutuban Mall as the answer to the adverse effects of today's wallet-crunching economic times. In fact, fashionista (people who dresses according to the trends of fashion) love Tutuban Mall because it is where they buy wardrobe staples. Even some of Manila's best dressed women buy non-branded clothes, bags and footwear in Tutuban Center.
When buying items or garments in Tutuban Mall be sure to negotiate and look for the best price. Some of the stalls inside the mall offer lower prices than the other stalls. Some even actually offer buy one take one (which means if you buy one item, you can take one of the same kind for free) like short pants, t-shirts, toys among many others.
Tutuban Center also has a place for electronic gadgets such as cellphones, laptop, DVD players, PC accessories and more. Don't get me wrong, the prices here are cheap compared to the ones in SM Mall of Asia or other big malls in Manila. Be sure to negotiate first and check the item as well before you buy them.
You can also find Robinsons Department Store inside Tutuban Mall. And outside of the mall is Divisoria, which is a market district well-known for its wide assortment of low-priced goods, wholesale and bargain shopping.
Tutuban Town Center is just 20-30 minutes away from Rizal Park or Kilomter Zero on a "normal" traffic flow. So if you're in Manila, don't miss Tutuban Mall and be amazed of the wide array of goods at a very low price. A perfect place to shop during special seasons such as Christmas and New Year.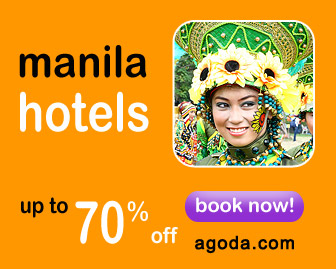 This page is last updated on
About the author