Considered as one of Boracay's most affordable Hotels, Villa Romero boasts its 26 rooms in different themes and styles which make the holiday seekers experience the best yet the cheapest accommodation in the paradise island of Boracay. Villa Romero is a few steps away from the long beach, ATM machine, restaurants and establishments which offer the different adventures which can be enjoyed in Boracay.
Villa Romero's Gypsy Room is also known as the Matrimonial Room, perfect for the honeymooners. The Safari Rooms are for those who love the Wild and the Animals. There are several other themed rooms to choose from. Each room gives the guests a unique holiday experience.
Villa Romero is located at Station 3, Boracay Island. It is where the "classic" Boracay still exists. Because of the congestion in Central Boracay, staying at this side of the long beach makes it peaceful and still very appealing to those who are visiting the island. It doesn't really matter if you are staying at the southern side of the beaches; there is still access to the different fast foods, bars, restaurants, souvenir shops, markets, dive shops and more along the white-sand beach.
There are hotel rooms that feature a kitchen and a balcony. Early reservation is suggested to get these rooms. All hotel rooms are air-conditioned (except the fan rooms), refrigerator, cable TV, private toilet and bath with hot and cold shower. Villa Romero has a guest lounge and a restaurant as well as a coffee shop and a convenience store. In most times, they offer a free breakfast and coffee to the hotel guests.
Room Rates for overnight stay
Fan Rooms = P600
Standard Rooms = P1000
Good for 4 = P2000
Good for 6 = P2500
Good for 8 = P3500
Good for 10 = P4500
Good for 12 = P5400
Good for 20 = P8000
Extra Person = P300
The room rates above are for Low Season in Boracay which starts on June 1 to October 31. During Peak Season from November 1 to May 31, prices will be higher than P200-P500 in most rooms. On Super Peak Seasons such as Christmas, New Year, Chinese New Year and Holy Week the prices will be higher than P1000 from the ones stated above.
Villa Romero also has a panoramic view deck and a party venue which can accommodate up to 100 people for parties, seminars, conferences and meetings. The crew are very hospitable and attend to your needs as fast as they can. They don't have any curfew hours so partying all night long at this one of a kind paradise in the Philippines would be a memorable one.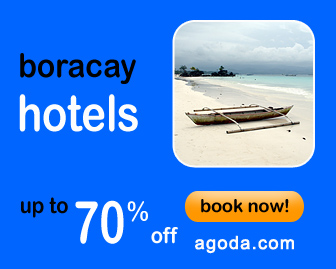 This page is last updated on
About the author