Zip-line has been one of the most exciting and thrilling adventure these days. In fact, it is one of my childhood fantasies. Just this afternoon, I made a fantasy become a reality. My wife and I went to Doce Pares, Mountain Training Park in Barangay Busay-Malubog, Cebu City in the Philippines.
Zip-line is also known as zip wire, aerial runway, aerial ropeslide, flying fox or death slide in the Philippines. Zip-line consists of a pulley suspended on a cable mounted on two points on an inclined position. This allows the user to be propelled by gravitational force to slide from the top point to the bottom point of the inclined cable. Cables and Pulleys are usually made from hard-steel or stainless steel and tested thousand times to ensure safety to the users. Zip-lines are often used as entertainment for both kids and adults. But in some other countries it is a means of transportation to access remote areas. Zip-line tours are becoming more popular to locals and foreigners.
It was the best time for a Zip-line Adventure because the weather was perfect. It wasn't too hot as what we normally experience here in the Philippines during 4 o'clock in the afternoon. We went there by motorcycle because we don't know that Doce Pares offers Shuttle Service from JY Square, Lahug to the Zipline Area. The minimum charge per roundtrip is P300.00 which is good for 10 persons. The Shuttle Service is only every Fridays from 10:00 am to 10:00 pm and Saturdays-Sundays from 8:00 am to 10:00 pm. The Shuttle ride is about 8 kilometers or 15 minutes from JY Square Mall.
Zipline at Doce Pares, Busay is open every day at the following time schedule:
Mondays-Thursdays (10:00 am to 8:00 pm)
Fridays (10:00 am to 10:00 pm)
Saturdays-Sundays (8:00 am to 10:00 pm)
When we reached the place, there was an entrance fee of P20.00 per person. The fee was intended for development of the place. If you want to experience the full thrill of Zip-line, you're going to pay P100.00 per person. This includes the use of harness, helmet and two rounds in the Zip-line. There are several crews that assist us in everything and we didn't feel worried on the safety and security of the dual-cables as it is very thick and has an extra support that holds the harness. The top point to the bottom point is about 140 meters. Next month, they will open the 400 meters.
It was a really fun activity we had this afternoon!
If you're planning to visit the place and experience the thrill, you can contact the Doce Pares Zip-line through Mariz or Tina at Landline Number: +63 32 344-3028 and Cellphone Number: +63 9088624276 / +63 9206539874.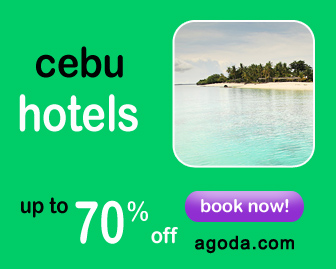 This page is last updated on
About the author