Riding a Jet Ski in Boracay is one of my unforgettable adventures. It was my first time to experience this extreme activity in the Philippines. There are hundreds of locations in the Philippines that offer Jet Ski experience such as Cebu, Iligan and Cagayan de Oro among many others. Boracay Jet Ski is available for rent at a price ranging from P600-P1000 for a 30 minute use and P1200-P2000 for 1 hour use. Higher prices are offered to most foreigners as they can afford it. Lower prices are for locals who really want to bargain for a very low price.
Boracay Jet Ski is one of the many water activities you can enjoy in the island. Other activities such as Island Hopping, Marine Walk or Reef Walking, Banana Boat Riding, Parasailing and a lot more are also popular in the island. The high powered Kawasaki and Yamaha Jet Skis were the ones being used by those who offer the rental service.
Most Jet Ski rental company has their own speed boat to bring you from the beach to the "float" or location where they parked the jet skis, which is about 2 kilometers away. They will provide the riders with a life vest and instruct what to do (and not to do) when riding the Jet Ski.
It was my time to ride the Jet Ski. At first, the crew was the one holding the wheels so he can instruct me how to use it. I was very shocked when he discussed in English because when I first saw him, I wasn't expecting he have the ability to speak the language. But that's what you get when you're in the Philippines, you get world-class Filipinos. He told me some safety measures, how to start the engine and how to move forward. He went in a clockwise direction along the floating containers which serves as markers. After 1 round, he went back to the "float" and I drive solo. At first I was hesitant to drive full speed as I am afraid that the waves might make me fall. But on the second round, I gripped the brake-like accelerator to maximum and it was a hell of a ride. I needed more speed. I enjoyed the very fast pace and gliding the waves was simply amazing. 15 minutes passed after my third round, I fetched Lisa. I was the one instructing her how to manipulate the Jet Ski. I assisted her on holding the wheels as it was too heavy for her. Making a clockwise turn and holding it against the waves was just too hard for a first timer girl. After another 3 rounds of unforgettable happiness, we went back to the "float" and had a fun dive.We thanked the crew, went back to shore, got our things from where we left it and walk back to station 3 where we're staying.
Boracay Jet Ski is definitely recommended when you are in the Island. Be sure not to miss the activity with your friends and families. I strongly recommend bringing others so the payment is divided. There was even a group of 6 students who tried the 30 minute Jet Ski activity. It made them pay only P100 per person and the experience was well worth it.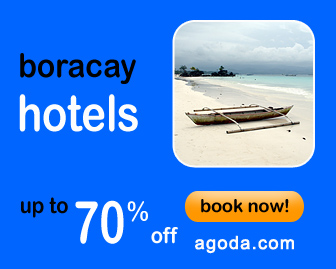 This page is last updated on
About the author