I've been travelling to the different parts of the Philippines for almost 2 years now and I don't see any reason why I should stop doing this in the next 5 years or so – not only because I love to travel but because I bring along my wife Lisa and son Sam with me most of the time.
After my tour in Bohol & Panglao over a year ago (my first and only tour package availed), I decided to write about my wonderful experiences and my recommendation on how to avail a cheap tour package. The response has been very great and up to this writing, my "push for something" was still considered as the "biggest bang for the buck" for those who availed the cheap tour. In my own little way, I have helped someone grow his tour business – bought a new van, added more staff, etc – without asking anything in return but gratitude.
In the past several months, I've been getting inquiries about affordable tours in Cebu, not only because I live here but I'm one of the go-to-websites when it comes to obtaining information. I always refer them to my friend, Mr. Antonio "Tony" Araneta, who's been on the business for a long time. When someone asks me about a cheap Cebu tour package, I would always refer them to his travel and tours company because I know he will "deliver".
About Mr. Tony Araneta
I've met Sir Tony 3 years ago when I was still working at Informatics – International Computer School here in Cebu. He was a humble man who has the wit and passion when it comes to travelling. He is a family-oriented religious person who believes that God is so powerful that he made not only the Philippines but the entire world a green place with full of awe-inspiring sights and adventures – and this is the very core of establishing Green Earth Tours & Travel, Inc.
About Green Earth Tours & Travel, Inc.
I always assert that the best way to get a low-cost Cebu tour package is by availing the services of Green Earth Travel and Tours. It is a Cebu-based travel agency providing travel and tour services for both local and foreign guests.
Green Earth Tours & Travel is duly-registered with the Philippine Security and Exchange Commission (SEC) and is accredited by the Department of Tourism (DOT).
The company is composed of competent trustworthy people trained to be responsive to the needs of their clients. This is why I always refer them when someone asks me about budget-friendly tour packages in Cebu & Mactan.
Satisfied Customers are inspirations
Sir Tony's company has boomed from zero to hero after hundreds of thousands of satisfied customers who availed their low-cost services recommended them to their friends and families.
In a recent talk with Sir Tony over a Capuccino at Starbucks [yummy], I discovered that he's been getting good feedbacks from his clients. This is one of the many reasons why he love this job so much because he gets to show his customers how beautiful this country is and he gets heart-warming feedbacks from his guests as well.
Take it from me
When planning to go to Cebu for a tour, Sir Tony's company is highly preferred; take it from me. This trustworthy and friendly person always make sure his guests are satisfied with his company's services and when they go home, they would tell their friends to avail the same low-priced services at Green Earth.
Avoid danger, Save Time & Sweat
I've been to many places in the Philippines and before I go with my family to a certain place, I always search for tour operators/packages and take a look at their itinerary. This is a good reference when it comes to knowing – and going to – the different tourist attractions in those places because they normally place it in sequence in terms of the location and the route the vehicle will travel.
I don't usually avail the services of tour operators because I want to discover as much information as possible so that I can write it on this blog – street names, jeepney fares, exact locations, do's & don'ts, tricks, hazards, etc.
Because of my advocacy, I have saved a few hundred bucks but perspire a lot and lost a lot of time compared to availing a hassle-free systematic tour package. I'm also risking my wife, baby and myself to possible street dangers and just hope my karate skills will work when we're on a dangerous situation [LOL].
Beware of unreliable tour operators
As a web developer and SEO specialist, I have a few tools which can determine if a webpage is reliable or not depending on the traffic it receives and the date it was published. I've found out that there are many unreliable tour operators in the country. They post their cheap tour packages all over the net and once they get the deposit from their guests, they evaporate. I warn those who don't want to lose their money to go to a travel agent who has a permanent address and reliable contact numbers – and an approval from me [wink].
If you want to be sure you get the best and most affordable Cebu tour package, avail the services of Green Earth Travel and Tours. I'm putting my name on the line here because I know you won't be wrong when you decide to go with Sir Tony's company.
Itinerary
Cebu City Tour (3-4 hours)
1. Fort San Pedro
2. Magellan's Cross
3. Basilica Minore del Sto Nino
4. Casa Gorordo
5. Taoist Temple
6. One-hour shopping at Ayala Center Cebu or SM City Cebu (if time permits)
Inclusions:
1. Licensed Tour Guide
2. Air-conditioned transportation
3. Pick-up/drop-off from Cebu City Hotel or Mactan Hotel
4. Entrance fees
5. First-aid/Medical assistance during unfavorable situations
Prices:
P 1700 – 2 to 3 persons
P 1400 – 4 to 5 persons
P 1200 – 6 to 7 persons
P 1100 – 8 to 13 persons
*Rates quoted are inclusive of taxes and service fees.
*Rates are valid until further notice.
*Rates are quoted per person.
How to avail a discounted price
I told Sir Tony that anyone who tells him or his staff about me, Mark Anthony Maranga or phtourguide.com will have a P50/person discount. If you're 10 in the group, you save P500 which is enough to feed a family of 4 in a day [right?].
He knows that I'm also passionate when it comes to helping Filipinos and foreigners see the different tourist spots in the country and this is the very reason why I created this blog. I ask people for discounts not for my own benefit but for those who are also fanatical about travelling.
How to see additional sights
Many of the tourist attractions in Cebu are just along the way going to the tourist attractions specified in the itinerary above. Some are not picturesque but worth the short glimpse.
The best way to see the other tourist attractions I've written on this blog is to tell Sir Tony that I or my website told you this: tell him to inform their licensed tour guide to notify you about the other tourist/historical spots, written below, as you pass along the main sites written on your itinerary.
1. Plaza Independencia
2. Malacañang sa Sugbo
2. Cebu Subway/Tunnel (if time permits)
3. Rajah Humabon Park
4. Cebu Metropolitan Cathedral
5. Colon Street: Oldest Street in the Philippines
6. Heritage of Cebu Monument
7. Yap-Sandiego Ancestral House
More information & discounts
If you check their website, http://www.greenearth.com.ph/, you get to see a wide variety of cheap tour packages not only for Cebu but for Bohol, Palawan, Boracay, Davao & Dumaguete as well.
If you are planning to avail any of their low-priced tour packages, tell him to give you a discounted price because phtourguide.com told you.
I'm 100% sure, they will give you the discounted price.
Enjoy and good luck on your tour!
Contact Details
Owner: Mr. Antonio "Tony" Araneta
Email:
Owner's Email Address: gett.inc@gmail.com
Staff's Email Address: info@greenearth.com.ph
Office Address:
Suite 203 Cardoc Building,
Mango Avenue (across old Sacred Heart for Boys)
Cebu City, Cebu, 6000
Philippines
Phone:
Telephone: (+63) (32) 238-6625
Fax: (+63) (32) 412-1028
Mobile Phone Number: +63 918-902-8738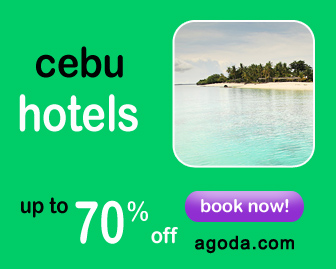 This page is last updated on
About the author