Colon Street is considered as the first and oldest street in the Philippines. It is located in downtown area of Cebu City, Cebu and has been the witness of so many events that happened during the Spanish settlement. It was named after Cristopher Columbus, a navigator, colonizer, and explorer from Genoa, Italy. The original plan of the town's design was made by Miguel Lopez de Legazpi, a Spanish explorer who arrived in the Philippines to constitute a settlement in 1565 on a fleet composed of the vessels San Pedro, San Pablo and San Juan.
Colon Street is still one of the most crowded parts of Cebu. It is an area with a wide variety of commercial sites, such as shopping malls, restaurants, fashion shops and movie theaters. Most of the jeepneys coming from different barangays in Cebu City usually pass by Colon Street which sometimes makes a clogged up traffic.
Decades ago, Colon Street has been known to be home of prostitutes as several motels and inns are scattered in nearby areas which only costs P50.00 for non-aircon and P75.00 to P150.00 for aircon for a two hour short-time check-in. Colon Street has also been known to be a place of ambush and snatching. Even up to now, foreigners and locals alike are becoming more careful when passing here even though policemen and "tanods" are being deployed in the area.
The countless development of Colon Street over the centuries has made it become unnatural especially to the new generation. Only the marker of Colon Street and markers of several nearby establishments are left.
In 2006, the Cebu City Council headed by Congressman (formerly Mayor) Tomas Osmeña proposed a plan to close some areas of Colon Street from vehicular traffic and converted it into a tourism zone. A couple of times during the year, one in December and one sometime during the mid-year season, they have a "Night Market in Colon" where a vast variety of items are sold at a very affordable price. A small "peryahan" or carnival is placed somewhere along Colon Street for visitors to enjoy during the evening. The Women's International League Hapsay Sugbo, Inc. headed by President Adelaida P. Javier also provided great contribution to the preservation of Colon Street.
Through the efforts of the current leaders of Cebu City, Colon Street has slowly got back its good reputation. Roving police forces are tasked to secure the area 24/7. Lately there have been very minimum reports of crime happening in the area. During late evening until dawn, a lot of jeepneys are still available near Gaisano Metro Mall; it is a 5-10 minutes away from the Colon Street marker.
It was only in 1999 where the National Historical Institute made Colon Street a historical landmark. Markers are place at the road side of Colon Street. A small information about what lays there hundreds or thousands of years ago, that made history worth knowing, is written. These markers are Guidetti's Studio, Vaño Residence, Rallos Residence, Lu Do Copra Plant, Studying in Colon, Tamayo Residence, Dona Modesta Singson-Gaisano Residence, Southern Institute, Residence of Don Victoriano Osmeña, Residence of Don Tomas Osmeña, University of the Visayas and many more.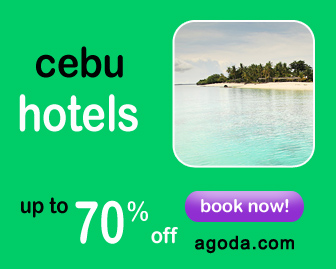 This page is last updated on
About the author