Just this afternoon my wife and I finally decided to visit Crocolandia in Talisay City, Cebu here in the Philippines. We've heard a lot of good comments about this mini zoo and we want to see it ourselves. Crocolandia is a 45 minutes to 1 hour travel from Cebu City, found in a semi-secluded area in Biasong, Talisay City. We went there by motorcycle and we had a hard time reaching the place as there are less signs, advertisements or pointers that led to the area. We tried asking several people and gladly one woman told us the correct location. If by taxi/cab the estimated fare is P180 from Cebu City Proper. If you want to ride a jeepney, you can take the Talisay route jeepney at a minimum P12/head fare and once you reach the Main Market of the City, you can take a Tricycle to reach there at a minimum price of P20/head. The tricycle can only accommodate up to 6 people.
The story of Crocolandia
Crocolandia was committed to propagating and conserving the natural resources and its wildlife. It is intentionally designed to serve as a place where man can be one with nature in the most intimate way possible.
A long time ago, this piece of land in Talisay City was a turtle farm, until one fateful day it became home for Magellan. Magellan is a four foot, five year old crocodile who later lay an egg, revealing her true gender, which dramatically surprised everyone. A family of animal lovers made Magellan as a pet and was quickly given a boy playmate by the name, Lapulapu. From then on Magellan and Lapulapu produced many healthy offspring that later made families of their own, increasing the population of their kind.
Later on, other animals, such as monitor lizards, snakes, owls, birds and the like were brought to the farm, where they have been kept well and taken care of. These animals became felicitous creatures of nature, living in their own little private world with TLC (Tender, Loving, Care).
The successful growth of the farm's population was significant and inspiring. This made the owner of the farm, Mr. Go Ching Hai, his family and friends decided to share their love for animals with the rest of Cebu, Philippines and they named it Crocolandia.
The Crocolandia Foundation
Crocolandia Foundation, Inc. is dedicated to its mission in providing a shelter for nature's neglected animals. The Foundation endeavors to enlighten the community through awareness and information of important facts about nature which will eventually help them preserve and conserve the environment.
Crocolandia is a showcase of proper care and attention that animals and plants needs to have. Crocolandia believes that the planet earth is meant to be shared with these living things, which are GOD's creations as well.
Guidelines for Membership Applications
1. One single copy of the form is needed for the Processing.
2. Upon submission of the accomplished application form applicants should submit or comply the following.
a. Two 1×1 ID pictures.
b. Present any valid I.D. for verification of data stated in the Application Form.
3. Crocolandia Foundation Inc. will contact you as soon as the application is approved.
4. The Membership I.D. and free souvenir item/s can be picked-up at the park, care off the Cashier.
Membership Package for a Single Member = P1,000 per year
Membership Package for *Family = P2,000 per year
*Family – comprising of 2 adults and 2 children below 18 years old.
Membership Benefits
– The membership package will allow the members unlimited entry into the park for one year.
– Guest accompanied by members will be given a 20% discount on the park entrance fee.
– Holders of a package will be issued a membership card which is non-transferable.
– Package for a single membership card includes one Crocolandia Souvenir Item.
– Package for a family membership card includes two Crocolandia Souvenir Items.
Lisa and I had a great time watching the crocodiles, birds, snakes, turtles, iguanas, fishes and a lot more. I believe some of the animals there are already endangered species and sad to say Crocolandia is not supported by Government.
The entrance fee of P80 per adult and P40 per children below 12 years old is fair enough for the very wonderful experience you will get when you're inside this world-class Filipino zoo. They give a 25% discount if you're a group of 25 people and up.
For reservations please call +63 32 273-1842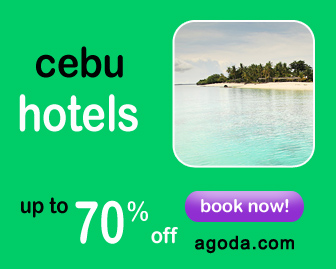 This page is last updated on
About the author